After Work
2006 - 12 min, 4 projectors (total of 48 min).
Exhibitionformat DVD
.
Voice-over: Karin de Frumerie.
After Work is a collaboration with Jan Pilgaard, made for the document of time The Cube on Kungsportsavenyn in Gothenburg. Considering the cube's public placing, we wanted to eplore the limit between private and public.

Displayed on the four sides where film clips from city views and people shot secretly in their homes. The camera intrudes in the private life, and the viewer gets a glimpse of something as undramatic as people watching TV or cooking.
A female telephone voice is heard while the clips passes by. Suggestively she leads the viewer through a story based on the confessions of a voyeur. She talks about the desire to watch, about love but also about her own loneliness.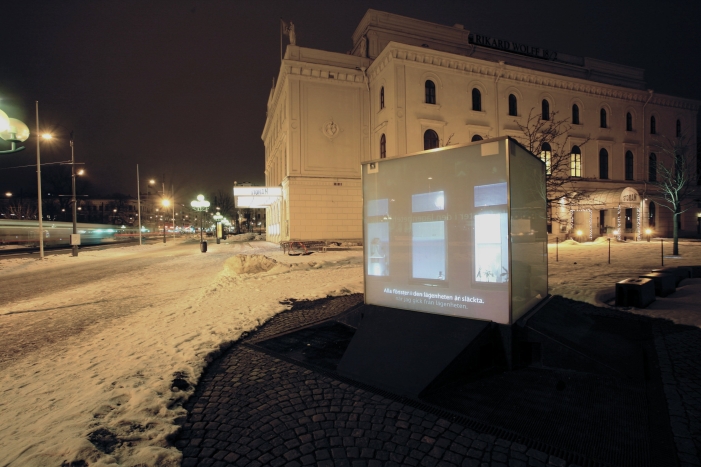 After Work was shown on The Cube in january-february 2006

The document of time The Cube is an installation close to Stora Teatern in Gothenburg. It was created with financial support by the government's millenium committee, Knut and Alice Wallenbergs foundation, The Foundation for the Culture of the Future and The foundation of Erna and Victor Hasselblad. The document of time was inaugurated in december 1999.

<<